Description
Tila Beads measure 5x5x1.9 mm, and each Miyuki Tila Bead has two parallel 0.8mm holes. Like other Japanese seed beads made by Miyuki, Tila Beads are high-quality and uniform in size and shape, so you can count on their consistency. There are 10 beads per gram so one bag holds approximately 140 beads.

 Half Tilas are the same height but 1/2 the width as regular Tilas, measuring 5×2.3×1.9mm.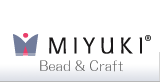 *We package the precious metal plated styles in 3″ tubes, holding 7 grams. There are appx. 25 beads per gram, so a tube holds in the neighborhood of 175 beads. Finishes can change the total as metallic finishes are heavier and bulkier too.